Archives are the monuments to who we are and inform where we are headed. They are not just inanimate objects, but can also reside within human memory. Our own documentation, preservation and digitisation of archival material serve as cultural repositories for future generations to be educated by. The sixty-year old family dance archive that I curate has been exactly that for me and the generations of students from our dance institution. This paper is based on my MA thesis titled "My Mother Dances in Me: A History of South Asian Dance by South African Indian Women Through the Lens of a Family Archive as a Lived Experience" (2019). It became my mother's posthumous voice, and has scaffolded my current PhD aspirations in exploring the journey from material to the embodied. We are all archives- how we present and preserve that knowledge is significant. It is my inheritance, which I share in the form of several practical and anecdotal lessons. It is hoped that our individual experiences can enable current and prospective dance exponents to re-story their careers and contributions to the knowledge base of the future in a similar manner.
The archive evidences the influence of the Indian film industry on the choice of my family to commence their sojourn to India in 1959/60. To many classical dancers the term "Bollywood" is sometimes considered as "blasphemous" when viewed through a traditionalist or purist lens. The irony is that in my family lineage the Indian film industry became the catalyst that inspired my mother and aunt to want to study dance. The popularity and music of "Bollywood" served as a useful teaching tool when bridging the cultural divide between young people in South Africa and the "alien" format that classical dance training presented.
By establishing a teaching institution, the Nydoo Sisters attempted to avert a situation that we currently find ourselves in. As an Indian dance community we are performance heavy, which is a salutation to the dancers of yore, however, we also need to focus on knowledge transfer with equal vigour. When my mother and I were studying dance in India there were no degrees conferred in the field. The first time this was offered in India itself was in 1986, by which time I had already completed my Odissi training.There is still a dearth of Indian dance presence in the academy in our own country of birth. The ICCR has enabled the local youth to take greater strides since the 1990s, however, collaboration between local universities and those based in India will most certainly see the numbers of trained, as well as academically sound exponents and teachers increase in the local academy. We should not have to leave our country to appreciate, honour and embed our heritage and memory in our Diasporic homes.
We are limitless – so why is it that we limit ourselves by dogma? There is an abundance of examples of how learning from India was reconfigured into a South African-friendly format. This was from the point of view that dance was a form of communication, and we the translators. There is the sisters' unique performance programme that included their eldest sister Radha, the first recorded India-trained woman, Veena player in South Africa, and the first documented national Indian dance tour of South Africa in 1962, performing at all the major cities and areas with Indian Diaspora presence. They also dared to cross the Indian vernacular divide by studying Kathak in 1965, not much of an issue today, however at that time, and for more than a few decades thereafter, it was not in vogue. They saw all art as their playground and revelled in it by studying other art forms to inform their dance practice, a characteristic that I applaud.
Interdisciplinarity is essential for expansion and longevity. The dance community needs to embrace the introduction of more of the eight recognised classical dance styles of India into our local dance menagerie. Our individual ambits of knowledge should not be the yardstick by which we measure the abilities of other exponents of styles that we have either not been exposed to or received training in. Fortunately the current dance community has the benefit of Google, YouTube, facebook and other online platforms that have shrunk the international dance community to the size of a screen. That is something that a few generations removed were not able to benefit from.
When we consider our cultural heritage in the context of now, we need to acknowledge that the prolonged lack of diplomatic and therefore cultural ties with India is what sets the South African Indian Diaspora apart from their counterparts in other parts of the world. It has led to confusion in our interpretation of tradition, religion and culture. The earlier "scouts" were left to their own devices and adapted by trial and error thus allowing the current dancers far more confidence and skill with the benefit of their wisdom.
When considering and addressing issues of diversity, history, socio-political identity, cultural heritage, and the status of dance and its challenges in your country inter alia, our linear historical narrative requires reframing. "The superficial scramble for cultural diversity is not addressing the deep causes of exclusion and the power imbalance in the arts." (Tania Canas, 2017). While my family was the object of the echoes of exoticism that the dance form still experiences today in this country, they strived to include and acknowledge artists of different cultures and art forms in their performances. The assortment of posters and programmes preserved in the archive provide substantial evidence of this. It also goes on to reveal the first documented Black South African exponent of Kathak in South Africa as our protégé. Their historical contribution has evolved with the arc of time to originate several aspects of Indian dance within the South African creative sector, to remain contemporary yet rooted in the passion for an ancient art form- Indian dance.
Dance has been a vehicle for positive change in South Africa. We have witnessed the upsurge of integration of culture, which is a contentious area in terms of arts, culture and dance in particular. I have witnessed sharing and exchange, create understanding and empathy however it is by no means a magic wand. "Without rethinking terms we run the risk of already 'othered' voices becoming further tokenized through the diversity discourse, rather than the lack thereof. We create disposable voices, restricted to exist within the same power structure that excluded them in the first place." (Canas, 2017) (italics in original). The more I expanded my dance repertoire of dance styles, the more gravitas and depth was experienced in my performance and teaching practice. This was also amplified as a result of learning from my students and peers of other cultural and dance persuasions.Therefore those practitioners who have experienced success in this field should contribute to the Indian dance academy and knowledge base in South Africa.
'…the arts must apply community-engagement methodologies, not with the aim of building audiences but building and strengthening community. It is not working for community, and sometimes not even with but as community, exemplifying a praxis of a "nothing about us, without us."' (Canas, 2017) (italics in original). Complacency is a killer of progress, as is a sense of entitlement. We are constantly navigating between the two. In reframing our narrative, the focus should be on thriving rather than merely survival. The past can and should impact present action and inform future directions. In encouraging every dancer to create their own narrative, from my research and experience, I have a list of "motivators" to consider as Indian dance makers and practitioners. Our stories and memorabilia could empower our protégés to respond to the challenges that they are inadvertently going to face - a beacon of sorts.
Anusia Govender-Pillay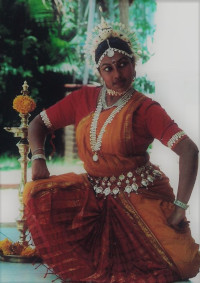 Anusia (Govender) Pillay is the curator of a family Archive on South African Indian Dance history, the Classical genre in particular, that has survived fires, floods, relocation and immigration. Portions of the archive were copied and stored at the defunct Documentation Centre at Derby Street, before it transformed into the 1860 documentation Centre, as well as, at the Gandhi – Luthuli Documentation at the erstwhile University of Durban-Westville. Most recently, in 2019, it has been documented in her MA Thesis (Film, Theatre and Performance) titled: "My Mother Dances in Me: A history of South Asian Dance by South African Indian women through the lens of a family archive as a lived experience", at the University of the Witwatersrand. Her MA now serves to scaffold her current PhD studies at the same university. She holds an Honours degree in Social Work from Natal University (1993)and is a trained Early Childhood Development teacher. Her professional career spans over 35 years. She has written syllabi in Indian Classical and Folk dance for implementation at at secondary school and technical college levels for NED and GDE. She is currently a sessional lecturer in Theatre Making, Visual Arts performance and tutors Critical Thinking students in the Engineering and Architecture faculty at Wits University.
Anusia is also the Executive Director of Anavarata Dance Institute (044-238-NPO), a community based Non-Profit Organisation in the townships of South Africa involved in free training, and learnerships for the Youth. At 59 years old – it the oldest organisation on the African Continent, of Indian and World dance, they are also UNESCO (CID) Council of International Dance members.
As the daughter of the first recorded South African teacher of South Asian classical dance, Luxmidhevi (Rani Nydoo) Govender, she has studied most of the 8 Indian classical dance styles to varying degrees, with emphasis on Bharata Natyam, Kathak and Sufi kathak, as well as Odissi. Her additional training includes Modern Dance and Jazz under Vera Pickering, Ballroom and Latin American dance (under various teachers) and Drama under Saira Essa. Anusia was selected as the first South African Trainer and Principal Dancer of the official Malaysian Cultural Dance troupe in S.A and received training by in Kuala Lumpur in 2001. She is passionate about African and South African Dance styles. She worked on two of Disney's productions in South Africa namely the "The Lion King" in 2006/7 as head of "Cub School" for the child artists, "Beauty and the Beast" in 2008/9; and taught at the National Children's Theatre. Her area of interest is in integrating her repertoire of dance styles with other artistic genres to create a new and fresh flavor to her dance making.
Woman of Wonder Awards 2015 For contribution to Arts and Community Development 2. Book inclusion: "1000 Inspirations" by Fakir Hassen 2014 Inclusion in a Book on the achievements of South African Indians in 20 years of Democracy. Anavarata is featured as the oldest Indian Dance based organisation in South Africa 3. Bollywood Centenary Celebration awards 2012 For Anavarata's contribution to the Local Film industry in the Bollywood genre 4. Won Award from ConsulateGeneral, India 1998 Celebration of 50 years of India's Independence 5. Gorée Island Pilgrim Award _________________________ 6. Book inclusion: "The Red Fort Declaration: The Legacy 20 years on" by Fakir Hassen 7. Tamil Business Warriors Artist Award 8. POLICIES INTO PRACTICE: CHARTERING ARTISTS' RIGHTS WEBINAR, 7 August 2020 2016 _______ 2018

2019
2020 Gorée Island Diaspora festival ______________________________ Launched at India – South Africa Business Summit at Sandton Convention Centre
Contribution to South Asian Arts in South Africa https://www.im4thearts.org.za/policiesinto-practice-chartering-artists-rights/


Repertoire: INDIAN : Bharata Natyam; Kathak( incl. Sufi ); Odissi; Kuchipudi; & Indian Folk & Ethnic Dance BOLLYWOOD: North & South Indian; Afro-integration SOUTH EAST ASIAN: Chinese; Indonesian: Malaysian; Thai; Japanese: Belly dance; Sri Lankan AFRICAN: Ethiopian; Mozambiquan; Batswana; Zimbabwe; Nigeria; Mauritius SOUTH AFRICAN: Afrikaner Volkspele; Sesotho; S'Pedi; Shangaan; Amampondo; Gumboots; Kaapse Klopse; Pantsula; Zulu; Kwasa Kwasa OTHER STYLES: Latin American; Ballroom; Jazz; Contemporary; Hip Hop; Salsa; Portuguese: French; Nordic; Polynesian INTERCULTURAL DANCE: regularly commissioned to create special and unique inter-cultural, and inter-faith pieces