Jatinder Verma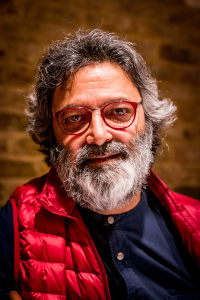 Jatinder grew up in Kenya and arrived in the UK as part of the "Exodus" of Kenyan Asians in February 1968, aged 14. He founded theatre company Tara Arts in 1977 as a response to the racist murder of a young Asian. During his four decades as Artistic Director of Tara Arts, Jatinder developed a unique approach to theatre – adapting Asian dramaturgical principles to European drama. An approach which he has termed "Binglish".
This approach characterised a range of productions, including Moliere's Tartuffe, which he staged at the National Theatre in 1990 - in the process becoming the first-ever non-white director to work at the National.
In 2002, Jatinder staged an epic trilogy of plays about Asian migration, Journey to the West. And in 2016, opened Britain's first multicultural theatre, fusing Edwardian brick and Indian wood to create Tara Theatre.
Since stepping down from Tara Arts in 2019, he has formed his own company - JVP - with designer Claudia Mayer.
Jatinder was awarded an MBE for services to diversity in the arts.
Chitra Sundaram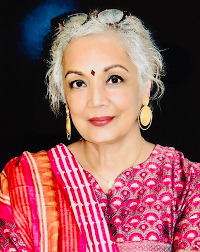 Chitra Sundaram is a dance-theatre educator and researcher, an actor trainer, dramaturg, mentor, and more rarely now, a performer and choreographer. she is Associate Lecturer, Department of Drama and Performance at Goldsmiths College, University of London, UK.
Chitra's performance works, teaching and inquiry reflect her robust form-based questions as well explorations in other dance/theatre forms and intellectual premises. Her critically acclaimed creations include: the subversively classical solo work 'Moham – A Magnificent Obsession' in bharatanatyam; the site-specific mixed- genres ensemble 'Awaaz/Voice' for Trafalgar Square festival; the social critique of 'Sthreedom – The Good Wife'; a contemporary take on a grotesque Hindu myth in 'Ahmas – The Immortal Sin a.k.a Skull', commissioned by the Royal Opera House's ROH2 programme, which toured the UK with Soma Numa, and showed internationally. Chitra's more traditional 'Pashyamey – Behold Me!' premiered at the South Bank Centre's Alchemy Festival and was shortlisted for British Dance Edition (BDE). In the '80s, Chitra co-created and toured 'Visions of Rhythm' with South- African origin Corrine Bougaard (Founder, Union Dance Company), as one of the earliest "fusion" works in the UK.
Chitra's research and teaching interests include the problems and potential of classical forms in cross-cultural and intergenerational transmission of cultural narratives; the effects on dance of the neo-nationalist project in India as post-truth 'facts' including its 'classicism' and 'religiosity' versus the proven aesthetic secularism of the texts invoked; the contemporary, western 'realism' and individual- based project of 'authenticity'.
Chitra was a long-time editor of Pulse, Kadam UK's South Asian dance (now also music) magazine, bridging academia, practitioner and dance aficionado, acquiring for Pulse critical international standing and subscription.
Chitra was Trustee and Member Governing Council of the international dance certification body, the ISTD. A 110-year old august institution of dance teachers. Chitra strongly resisted, and still resists, the use of the term 'Imperial' as she is now anointed an ISTD Fellow in recognition of her services. Chitra was elected Fellow of the Royal Society of the Arts (FRSA) years ago but has recently neglected to pay her dues in time, trusting automatic bank debit – and is wondering about renewal and what 'Royal' means or should mean to British colonials and post-colonials, and what disjointed individual protests may achieve here, if anything useful to others.