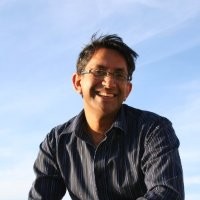 Dr Gerard Samuel is an Associate Professor: University of Cape Town, Centre for Theatre, Dance and Performance Studies and Head of CTDPS Dance Section. He is the Convener: Post Graduate studies in Dance, Editor: South African Dance Journal, and Chair of Confluences a biennial, international dance conference hosted by UCT.
During the Apartheid era he performed with the NAPAC Ballet Company and The Playhouse Dance Company in Durban. He held senior management posts for The Playhouse Company, until 2006. His notable choreographies include Prabhati and The Man I Love. He received the Durban Theatre Awards in 2006 for The Sound of Music.
Gerard has produced Place of Grace, a dance film in 2011. He is an advocate of disability arts in South Africa and in Copenhagen
He obtained his PhD for a thesis entitled - Dancing the Other in South Africa from UCT, in 2016 in which it was announced that " Gerard Samuel's thesis makes a highly significant intervention in Dance and Performance Studies in terms of its original argument about how the category of 'age' is used [as] part of 'othering' process… coining the term 'body-space' as a theoretical tool to observe bodies and dancing as states of becoming".