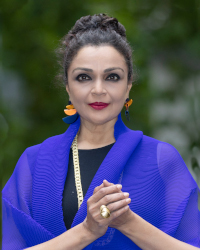 Anita R Ratnam is best described as an" intersectionist", whose work weaves the many disciplines of dance, theatre, spoken word, ritual, dramaturgy and women's issues. Her formal training in Bharatanatyam, Mohiniattam and Kathakali along with her educational background in English Literature, Dance, Theatre and Women's Studies have given Ms Ratnam a unique movement vocabulary.
Awarded on multiple occasions for her work in Television, Theatre, Dance and Arts Entrepreneurship, Anita Ratnam has also received the national Presidential medal for Contemporary Dance in 2017. A passionate animal lover. food enthusiast and World traveller, Anita in her own words "lives every day to its fullest potential"
Dr Anita R Ratnam, based in Chennai (Madras) , India, is highly respected as a performer, writer, speaker and arts entrepreneur and culture mentor. She has been described as an "intersectionist", whose work weaves the many disciplines of dance, theatre, spoken word, ritual, archaeology, dramaturgy and women's issues. For over 40 years, her distinguished career has witnessed over 1300 performances in 37 countries. Her formal training in Bharatanatyam, Mohiniattam and Kathakali has given Dr Ratnam a distinctive movement vocabulary that she has named NEO BHARATAM - a contemporary Indian kinetic situated on a mature body. Using voice, singing, Vedic hymns, drumming, contemporary mythology and devised movements, her acclaimed choreographies include GAJAANANA, DAUGHTERS OF THE OCEAN, SEVEN GRACES, MA3KA, A MILLION SITAS and NEELAM.
Dr Ratnam served as a member of the Executive Board of the Sangeet Natak Akademi, India's largest apex body for the performing arts, and the ICCR, India's Government panel to select performers for international tours. She is a fellow of the World Academy of Arts and Sciences, and a voting member of the Dance Critics Association, USA. She is a visiting professor in several international universities in the USA like University of California, Irvine and Riverside, Wesleyan University, George Washington University and Rice University. Ratnam is also a professional storyteller whose work has been invited to several museums like National Museum, New Delhi and Peabody Essex Museum, USA. . Dr Ratnam is currently the Vice President of ABHAI the Chennai based arts organisation that represents the Bharatanatyam dancers of India.
Ratnam is the co-editor of the Cambridge Publishers international imprint VOYAGES OF THE BODY, a collection of essays and performance notes based on two feminist conferences that she curated and produced.
Dr Ratnam's background as a television producer in New York City (1980 to 1990) as well as her educational qualifications in Dance, History, Theatre and Women's Studies (MA and Phd) have made her a popular speaker for diverse audiences. She has been repeatedly honoured for furthering the profile of Indian dance. As a mentor, Dr Ratnam is currently mentoring actors and dancers in a pioneering national project called PADME as well as on the Advisory board of ADISHAKTI the theatre laboratory in Pondicherry. An ardent supporter of new initiatives, Ratnam has supported various independent organizations and solo artistes working in creating a fresh new performance aesthetic for today's India.
As a cultural entrepreneur, Ratnam has founded Narthaki.com, the largest portal on Indian dance on the world wide web and restored the 15th century theatre ritual performance of KAISIKA NATAKAM in her ancestral village temple of Tirukurungudi in Tamilnadu. She has also conceived, produced and curated numerous conferences and dance festivals for 25 years; the most notable are THE OTHER FESTIVAl, India's first annual contemporary dance festival, and international dance and theatre seminars OLD TEXTS NEW TEXTURES (1994) PAST FORWARD ( 1999) ANCIENT FUTURES (2000) MAD AND DIVINE (2010) , EPIC WOMEN (2012) AND PURUSH (2013)
A sought after speaker on the arts, culture and women's issues, Dr Anita Ratnam divides her time between her home in Chennai India and the rest of the world where she travels frequently furthering the international profile of Indian dance.